Ik Onkaar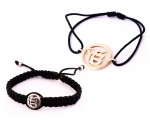 Aumkaara Products are fashioned to empower people to stay connected with their spiritual side and at the same time bring peace, tranquility, hope & faith in your daily lives. A thoughtful gift, A style statement.
---
Sub Categories
Buy Ik Onkaar Men Bracelets Online
Jewelslane presents an attractive range of jewellery accessories for our gallant heroes. We strongly admire the spiritual connection with the holy symbol of Ik Onkar and religious beliefs of the Sikh religion. At Jewelslane, we have a variety of bracelets for men in the category of beautiful manly bracelets that are inspired by the latest designs.

These bands are famous among the male groups, who love to add elegant accessories to their macho personalities. Now easily order these designed Ik Onkar men bracelets online for the sturdy wrists and prove yourself. We have a remarkable collection of bracelets that are available in leather straps with the charms of gold and silver and precious diamonds of good colour and clarity. They are the best jewellery pieces which are in fashion these days to enhance the strong manly looks of the male buyers. The striking gold leather bracelet, Ik Onkar on the leather wrap, the ethereal symbol with diamonds on a leather weaved thread, and the wide band in silver all of them are truly magnificent. Choose them for your father on the special occasions on his birthdays, to your male friends and elder brothers at home. They are best for the purpose of gifts because they are elegantly designed with lots of love and warmth of best craftsmanship.

All these bracelets are available online at the best affordable prices. The leather used is 100% authentic. So keep it away from water and clean it with a soft cloth. You can wear these eye-catching bracelets with formals and casuals on the daily basis. Buy these amazing Ik Onkar men bracelets online from Jewelslane today to create a new style of fashion trend for this season.
Your online jewelery shopping store offering Ik Onkaar bracelets for men and women at affordable rates. At Jewelslane you can shop authentic Ik Onkaar bracelet jewellery, om bracelets gifts, khanda bracelet gifts and more. Best to gift your friends and relatives, an Ik Onkaar bracelet or gold bracelet designed in sacred religious symbols. These religious symbol gold bracelets are popular in India and considered to be lucky charm gifts.
Ik Onkar is the holy sign of Sikh religion. At Jewelslane, you will find some decent bracelets with the beautiful charms of Ik Onkar attached to it. They are made in the precious metal of gold and silver with some of the best assorted diamonds. This pure and divine symbol of unity and oneness is worn by the Sikh people all over the world, so buy them online and spread the holy chant with devotion.

Now feel closer to almighty and buy online Ik Onkar bracelets today. They are best for the purpose of gifting. Now don't get confused while choosing an amazing gift for your family and friends.You can easily choose an exciting bracelet for your wrist from the large collection present at Jewelslane. So what are you waiting for? Buy this glittering piece of accessory and flaunt the glaze of your wrist in your friend circle. When you will wear these pretty bands you will be delighted and overwhelmed with the divine thoughts.

These bracelets are designed with great efforts to make them your perfect pieces of jewellery. They are available at the affordable price range to suit your pocket. Let this piece of jewellery reveal your true affection of spiritual commitments. Include them as an essential accessory on every religious ceremonies, festivals and other celebrations. These bands are simple and elegant, you can match them with your every dress. Whether it is a formal meeting or a get together with friends it will add a dazzling look to your personality. Buy online Ik Onkar bracelets and recite the sacred mantra of Sikhism with love.