Friendship Day Gifts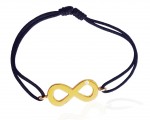 Friendship Day Gifts: Seal your bond of Friendship with a alluring Diamond Bracelets as Gifts for Friendship Day. Friends are like diamonds, & a Diamond Bracelet Friendship Day Gift will bond your friendship forever. Select from a range of Friendship Day Gift options from Jewelslane.
---
Friendship bracelets not only represents the bond of friendship, but also considered as fashionable ethnic items that will never go out of style. They hold meaning and truth. Your relationship with a friend is something you would cherish and sometimes, a simple object such as a bracelet is all you need for reaffirmation. These bracelets were initially made by tying knots with floss or yarn to create intricate patterns. But with advancing fashion world, bracelets are now made using jewels, metals and several other types of materials.
Friendship bracelets stand for much more than just making a statement. Not known to many, friendship bracelets date back to the ancient Central America. Some decorative knots associated with the bracelets can also be traced all the way back to China but according to most, Central America is the real birthplace. The era when matching bracelet crashed and flooded the streets around the world.
The time you have shared with your friends and the happy memories you made together are all held together in the threads of that one bracelet. You may not be forever or your friendship may not last, but that doesn't mean that your memories can't.
Steer through the wide range of friendship bracelets available at Jewelslane in various patterns and designs!! Seal your bond of friendship with alluring diamond bracelets as friends are like diamonds and a Diamond bracelet from Jewelslane will strengthen your bond of friendship forever. It is a simple way not only to brighten up your outfit but also show your friend how much you care.
Because friendship is such an important part of our lives, it is necessary to express it!! So shop now and surprise your friends and mark their importance and value with exquisite friendship bracelets from Jewelslane!!