Divine Pendants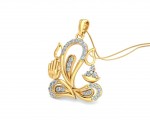 Divine Pendants are spectacular pieces of jewellery. These are not objects just for beautification but are an important medium to offer woman with divine consciousness. Jewelslane offers a beautiful, timeless and enduring collection of divine pendants. The collection is sure to differentiate you by using pendants to denote status, power and ornamentation. It is a perfect blend for both personal inspiration and fine artistry.
Modern jewellery designers are flocking to divine pendants because they are the perfect combination of beauty and durability. Whether you are searching for everyday pendant or a timeless statement piece, you will find pendants according to your style needs and personal tastes.
Looking to buy that perfect divine pendant? Steer through the gold, silver and diamond collection now!

---